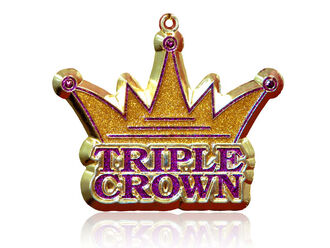 In Professional Wrestling a Triple Crown Champion ia a term describing a wrestler who has won the three most prestigious belts of their promotion-typically a heavyweight belt, a tag team belt, and a second tier belt. It is considered a great accomplishment to have won a triple crown.
Requirements
Edit
A Triple Crown Champion is defined as a wrestler who has had at least one reign with three major titles in a single promotion, usually consisting of the promotion's main championship, tag team championship, and a third "mid-card" championship. (For example, a WWE Triple Crown would consist of a WWE World Heavyweight Championship reign, a WWE Tag Team Championship reign, and an Intercontinental Championship reign.)
In the M4G-Nation, a wrestler must have one reign with the following belts to be recognized as a Triple Crown Champion:
List of Triple Crown Champions
Edit
3 Link M4G-Nation Blue Champion Tag Team Champion Galactic Champion
List Of Superstars With 2 Of The 3 Belts
Edit
The following wrestlers need only one title reign to complete a Triple Crown. Titles required are respective to that wrestler's brand:
Jack-6 has held the unified M4G-Nation Championship and InterGalactic Championship. Requires a Tag Team Championship reign. (The Buu Supremacy's Tag Title reign does not include Jack-6 as he never defended the titles in a match)
Vegeta has held the Tag Team Championship (w/ Megaman as the Blues Brothers) and is the current InterGalactic Champion. Requires a M4G-Nation Blue Championship reign.
Kratos has held the Tag Team Championship (w/ Leonidas as Spartan Fury) and is the current M4G-Nation Blue Championship. Requires an InterGalactic Championship
Ash Kethcum's win not only made him a Triple Crown Champion but also a Grand Slam Champion
Source and basic info from www.Prowrestling.wiki.com 
Ad blocker interference detected!
Wikia is a free-to-use site that makes money from advertising. We have a modified experience for viewers using ad blockers

Wikia is not accessible if you've made further modifications. Remove the custom ad blocker rule(s) and the page will load as expected.