This is a list put together by the M4G-Nation commentators themselves judging the top 10 moments on M4G-Nation Pay-Per-Views.
The List (2012-2013)
Edit
10. Jack-6 retaining the Inter-Universal Championship against Goku at Northern Lights
9. Ash Ketchum retaining the Atom-Weight Championship after Skeeter Valentine gave a Rock Bottom to Trunks off the Ladder through the table at the Big Bang.
8. Taylor Swift becoming the first ever Harlots Champion at Solar Eclipse.
7. Tien Shinhan winning the Atom-Weight Championship after Ash Ketchum was assaulted while the lights went out at Northern Lights.
6. Hermione getting "Shelton-Benjamined" by Dawn, receiving a Super Kick after springboarding at Sonic Boom.
5. Trunks spearing Ash Ketchum while Ash was hanging off the title in a TLC match at the Big Bang.
4. Jack-6 retaining the Galactic Championship against Bojack and The Hulk at Galactic Throwdown.
3. Link returning from the dead to confront Jack-6 at Sonic Boom.
2. Yusuke Urameshi powerbombing Buu off the Hell In A Cell through the announce table, then delivering a leg drop from the top off the cell at Solar Eclipse.
1. Captain America cashing in Money In The Bank on Darth Vader to become the Inter-Universal Champion at M4GaMania.
The Video
Edit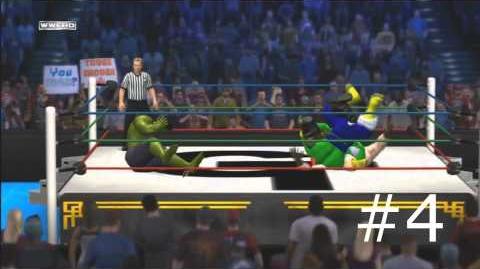 Ad blocker interference detected!
Wikia is a free-to-use site that makes money from advertising. We have a modified experience for viewers using ad blockers

Wikia is not accessible if you've made further modifications. Remove the custom ad blocker rule(s) and the page will load as expected.