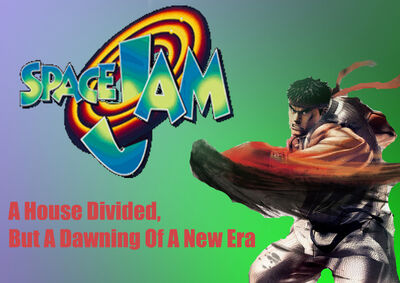 Space Jam is a pay per view event that happened on December 30th, 2013 based on events on the M4G-Nation
Background
Edit
Space Jam featured professional wrestling matches that involve wrestlers from pre-existing feuds, plots, and storylines that play out on the M4G-Nation's daily episodes. Wrestlers will portray villains or heroes as they follow a series of events that build tension and culminate in a wrestling match or series of matches. In the M4G-Nation Space Jam is the first pay per view to happen in WWE 2K 14.
As the M4G-Nation moved to WWE 2K 14 many of the wrestlers who were members before once again returned while some others were let go. As a result of this new crop of growing wrestlers the M4G-Nation split into two brands. As a result of the brand spilt the current championships were all moved to one brand or another as wrestlers were signed to different brands.
An important event was the M4G-Nation Champion Ryu going to M4G-Nation Green becoming the champion of that brand. As a result M4G-Nation Blue needed a champion. Ash Ketchum, Jason Voorhess, Loki, and Wolverine each won fatal four way matches to get into the championship match to crown the first M4G-Nation Blue Championship. Ryu would end up facing the man he defeated for the M4G-Nation Green Champion Bandit Keith.
Zangief would become the Solarflare Champion winning a fatal four way TLC vs The Hulk, Space Ghost, and Raiden on December 2nd, 2013. meanwhile Quan Chi was among many debuts defeating Bizzaro before winning a fatal four way of debuts vs Green Arrow, Strider Hiryu, and The Predator
Vegeta would win a fatal four way matchup becoming the new number one contender for the Galactic Championship. Captain Pollution would win a matchup vs Captain Britain. After the matchup Vegeta would step out on stage to point towards the championship around Pollution's waist. It was also said that the two had heated words for each other during an interview with the Tick during the first week of the new M4G-Nation season.
The Tag Team Champions Westros left leaving the M4G-Nation with no Tag Team Champions. Mortal Kombat would defeat La Pollution and TMNT to represent the M4G-Nation Blue Brand while Red Death would defeat The Fire Birds and Choas Theory to reprsent Green.
Atom Weight Champion Tien will debut in 2K 14 on the ppv going vs The Green Ranger and Android 17 in a triple threat matchup for the Atom Weight Title.
Match Results
Edit
| # | Match | Stipulation |
| --- | --- | --- |
| 1 | The Tick(c) def. Mr. Christmas | Extreme Rules Match for the Hardcore Championship |
| 2 | Tien(c) def. Green Power Ranger and Android 17 | Triple Threat Match for the Atom-Weight Championship |
| 3 | Red Death def. Mortal Kombat by submission | Tag Team Championship Match |
| 4 | Vegeta def. Captain Pollution(c) | No DQ Matchup for the Galactic Championship |
| 5 | Quan Chi def Zangief(c) | One on One matchup for the Solar-Flare Championship |
| 6 | Ash Ketchum def. Jason Voorhess, Wolverine, and Loki | Fatal Four Way Extreme Rules Elimination matchup for the M4G-Nation Blue Championship |
| 7 | Ryu(c) def. Bandit Keith                    | Ladder Match for the M4G-Nation Green Championship |
On this night, Zangief, Vegeta and Ash Ketchum all became the first wrestlers to win three different M4G-Nation titles. Zangief was the first to do it with his Tag Team Championship victory. Vegeta was second to do this with his Intergalactic Title victory. And Ash Ketchum was the third to do it with his M4G-Nation Blue Title victory.
Ad blocker interference detected!
Wikia is a free-to-use site that makes money from advertising. We have a modified experience for viewers using ad blockers

Wikia is not accessible if you've made further modifications. Remove the custom ad blocker rule(s) and the page will load as expected.