Solar Eclipse 2 was a Pay-Per-view event by the M4G-Nation on September 1, 2013, and was the second annual Solar Eclipse PPV.
The main event of this PPV was a special gauntlet match between the Buu Supremacy and Team Goku with 7 members from each team competing to keep their titles and their jobs. This PPV is also notable for featuring the first non-title, non-Money in the Bank match since the inaugural Solar Eclipse, the first non-title match to be a main event, and the M4G-Nation's first ever 'I Quit' match.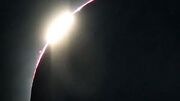 Background
Edit
Solar Eclipse II featured simulated professional wrestling matches that involve fictional wrestlers from pre-existing feuds, plots, and storylines that play out on the M4G-Nation's daily episodes. Wrestlers will portray villains or heroes as they follow a series of events that build tension and culminate in a wrestling match or series of matches
At Singularity, Jack-6 regained his M4G-Nation Championship which he lost at the previous PPV Galactic Throwdown II (2013) by defeating Bane in a Hell In A Cell match. Just like Jack-6 activated his rematch clause for Singularity, Bane activated his rematch for Solar Eclipse II. However, it was announced on the M4G-Nation Facebook Page that the 5th Royal Rumble match would take place with the winner joining Bane and Jack-6 in the title match, making it a triple threat match. The match took place on the 11th of August 2013. The match was won by Boba Fett, who would win his 2nd Royal Rumble in a row by eliminating Link last. This means that Team Goku will have a representative in the M4G-Nation title match against Buu Supremacy member Jack-6 and Bane, who actually turned down Goku's offer to join the resistance against the Buu Crew.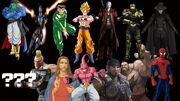 On July 8th, Team Goku members
Goku
,
Dante
,
Captain America
,
Raphael
and
Boba Fett
returned to the M4G-Nation coming from the back of a limo. The group came back in force to resume the fight against the
Buu Supremacy
. After
Master Chief
lost the
Galactic Championship
to then-Buu Supremacy member Captain Pollution, Goku assaulted Pollution after the match. On August 12th,
Goku
proposed a 6 man elimination tag team match between 3 GoKrew members and 3 Buu Crew at
Solar Eclipse II
. If The Buu Crew won,
Team Goku
would not be seen again until 2014. If the GoKrew won, the Buu Supremacy members would never conspire again. The match was accepted by
Captain Pollution
, but the terms was renegotiated by
Buu
on the 19th. The stipulations changed, so which ever team lost at Solar Eclipse would not be seen until 2014. This means any titles held by either group would be vacated. These negotitations was followed by
Bojack
turning on the Buu Supremacy and aligning with Team Goku. The match was changed ONE LAST TIME on August 26th. This time, it changed to a 7 on 7 elimination special gauntlet match. This means all 6 Supremacy members with a suprise partner would face 7 members of Team Goku. This means that
Jack-6
will be competing in two matches on the PPV as will Boba Fett and Master Chief.
On the August 13, 2013 episode of State of the M4G-Nation, then-Atom-Weight Champion Adolf Hitler selected the match that he will defend his title in randomly via a spinning wheel. The result was an 'I Quit' match, the first to be recorded in M4G-Nation history. Hitler's opponent was yet to be decided until the PPV.
A Fatal-4-Way match was held in hopes of finding a new #1 contender for the Harlot Division Championship - currently held by Daenerys Targaryen. Cammy qualified as the top contender, defeating Rei Ayanami, Kim Possible, and Supergirl to advance.
In a similar fashion, the DD Championship #1 contender was to be decided through a single match. The following event saw the newly recruited team of Elastigirl and Silk Spectre fighting the enigmatic duo merely referred to as the collective 'Menage A Trois' in a losing effort. This was the first match the mysterious two competitors participated in, since they have each made their on-screen debut and further appearances sporadically where they would assault other members of the Harlot's Division.
| # | Match | Stipulation |
| --- | --- | --- |
| 1 | Tien Shinhan def. Adolf Hitler (c) to win the Atom-Weight Championship. | 'I Quit' Match For The Atom-Weight Championship. |
| 2 | Westeros (Poseidon & Khal Drogo) (c) def. Mortal Kombat (Scorpion & Sub-Zero) to retain the Tag Team Championship. | Tag team match for the Tag Team Championship. |
| 3 | Menage A Trois def. Queens & Sevens (Harley Quinn and Bloodrayne) (c) to win the DD Championship. | Tornado tag team table match for the DD Championship. |
| 4 | Daenerys Targaryen (c) def. Cammy to retain the Harlot Division Championship. | Ladder Match For The Harlot Division Championship. |
| 5 | Captain Pollution (c) def. Master Chief to retain the Galactic Championship. | Singles match for the Galactic Championship. |
| 6 | Jack-6 (c) def. Bane and Boba Fett to retain the M4G-Nation Championship. | Triple Threat Match For The M4G-Nation Championship. |
| 7 | Team M4G-Nation (Goku, V, Dante, Yusuke Urameshi, Bojack, Boba Fett, & Master Chief) def. Buu Supremacy (Buu, Marcus Fenix, Jesus, Zangief, Spiderman, Jack-6, & Burger King) | 7v7 Elimination Tag Team Gauntlet match with the stipulation that the losing faction is removed from the M4G-Nation roster until 2014. |
This is the first pay-per-view event in the M4G-Nation's history that had a non-title match as its main event.
Ad blocker interference detected!
Wikia is a free-to-use site that makes money from advertising. We have a modified experience for viewers using ad blockers

Wikia is not accessible if you've made further modifications. Remove the custom ad blocker rule(s) and the page will load as expected.