This Page will be updated after every PPV. Don't forget this is my opinion so please share your opinions below. Please don't change anything, Enjoy!
Number 29: M4gamania 2 (Trouble in Jamaica)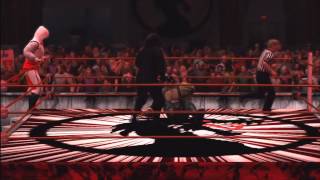 This was the last PPV of WWE 13 so everyone wanted to get it over with. They used Trevor's Xbox so the Caws looked different, the matches were classic WWE 13, and the worst Main event of all time that had to be sped up.
Highlights: Hardcore Title match Captain Falcon vs Big Daddy vs Dante vs Scorpion.
Still early in 2K14 the card was set for an amazing night, but it kinda fell, the 6-man hell in a cell match underperformed, but it was held together by other great matches.
Highlights: Buu vs Captain Pollution *If Pollution loses he's fired from TMN Blue.
TMN Blue Championship: Elimination Chamber Match
Ash Ketchum vs Jason Voorhess vs Loki vs Kratos vs Cookie Monster vs King Leonidas.
Number 27: Space Jam
Another case why Bandit Keith should never main event a PPV. Then add a Extremly Long atom weight championship, but 1 match held the glue to this PPV. TMN Blue Title
Loki vs Wolverine vs Ash Ketchum vs Jason.
Highlights: TMN Blue Title
Loki vs Wolverine vs Ash Ketchum vs Jason Mortal Kombat vs Red Death for the Tag team Title.
Number 26 :CIW Doomsday
I feel bad for all the the bad editing problems his computer was having, so the matches were not as good as hoped, but it had it highlights:
Triple Threat tornado tag for CIW tag team championship, Team Mischief, vs the other Rangers, vs Salt and Peppa
The aftermath of Ermac vs Satan for the Ciw Heavyweight Championship
Number 25: Solar Eclipse 3
There was good build up to this matches, but an Elimination Chamber where no one leaves the ring, and an awkward TLC match Kinda dragedd the PPV down. But You have Green Goblin winning again and these Highlights:
Magneto vs Joker( Gotham city street fight)
Vegeta vs Captain America (TMN Green Title match)
Kratos vs Jack-6 (TMN Blue Title match)
Number 24: M4gamania
The m4gnation tradition of the final PPV of the game was born here at the first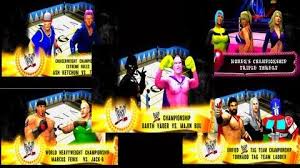 M4gamania. The matches were all good, but got outshadowed by the main event and Captain America cashing in his MITB. Highlights: Darth Vader vs Buu InterUniversal title.
Lots of good matches led up to the another lackluster Tmn chapionship match. A pretty solid PPV
Highlights: Galactic Title Match: Games 5-7
Vegeta vs Captain Pollution
Tien vs Android 17
Ash Ketchum vs Subzero
Number 22: Galactic Throwdown
The very first M4g-Nation PPV was stacked with great matches. It was the M4gnation's own Wrestlemania and it felt like that. It also was the Birth of the most dominating wrestler ever, and also Thor debuted here too.
The Hulk vs Bojack vs Jack-6 [Triple Threat, ExtraSolar Title]
King vs Yusuke [IronMan Cage Match, Inter-Universal Title
Number 21: CIW August Asylum
CIW's Wrestlemania was a great PPV. Epically Wario's turn, more commenters like smooth jazz, and that other guy (I forgot his name). the only minor problem I had was the last match. No disrespect to the colonist. Also the preshow was awesome.
Highlights:
The whole preshow (like the Facebook page to see it)
Mr Clean vs Agent 47 loser leaves CIW
Packard vs Ken Masters 20 min ironman match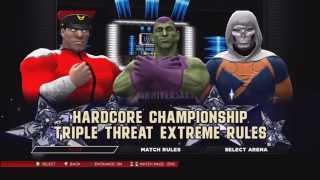 A very solid PPV with amazing moments, This PPV broke a record with 6 new champions crowned, the only person that retained was Green Goblin in his Hardcore title match. The main event ended kinda poorly, but it was overshadowed by other great matches.
Highlights: Atom-Weight Title
Mega Man vs Green Arrow vs Gambit vs Space Ghost
Intergalactic Title: 20 Minute Iron Man Match Ash Ketchum vs Vegeta
TMN Blue Title: The Cookie Monster vs Kratos
This PPV Had the vacant TMN Title held up for grabs. The no-one-gave-a-shit return bandit keith won his return match to get in and won the TMN title to become the worst champion ever. But besides that the Harlot matches were pretty good, and the atom weights delivered a quality match.
Highlights:Atomweight Title 6-man Hell in a cell match
Galactic Championship Triple Threat Master Cheif vs Ash vs Captain pollution
In the old PPV's format there was only five matches, but boy did they deliver, We saw more domination by Jack-6 and four other great matches.
Highlights: Ash Ketchum vs Ezio Auditore [Atom Weight Title]
Number 17: Galactic Throwdown 3:
HORY SHEIT!!!! These matches were great, Blackwing(PJR) and Myostismon both make returns, the grandest stage of them all sure felt like it.
Highlights:
Tag Team Gauntlet, (mostly the exotic exxpress)
Ash Ketchum vs Jack-6 (whose the best ever match)
Buu vs Vegeta (Intergalactic title)
Gypse Danger vs Kratos( TMN Blue title)
Number 16: Vernal Equinox 2
The Card was stacked with good matches , Then the main event hits, with la pollution taking out the supremacy new members, it was a three on 1 handicap match, until Jack-6 and the retired Jesus came back that ended with Jesus pinning captain pollution to retire la pollution. Also that really bad cage match for the Tmn green Title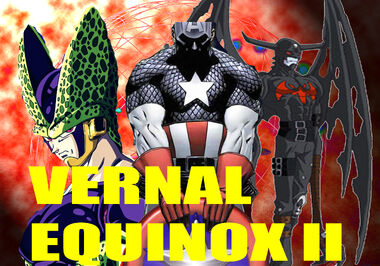 Highlights: TMN Blue Championship: 4 Way Eliminator
The Kratos vs Ash Ketchum vs The Cookie Monster vs Jason Voorhees
La Pollution Captain Pollution, The Joker, M Bison vs The Supremacy Buu, Jack-6, and Jesus
: CIW Massacre
The First PPV of CIW was spectacular, The ECW to M4gnation's WWE shined with great matches and Sean worked really hard(even dressed up for the ocasion) on it.
Satan vs Ermac (CIW Championship)
The transition to a 2k15 was very well done with this PPV, we saw the return of Jason and his crew destroy bane and some good matches.
Highlights:
Blue Tag Titles: Ladder Match
The Greatest (Lebron and Romo) vs The Avengers (Ironman and The Hulk)
Green Lantern vs Venom vs The Joker vs Wolverine vs Havok vs Smoke
Paul Phoenix vs Captain America
Number 14: TAW Perfect Storm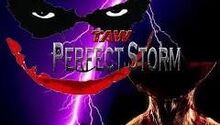 3 hours of balls to the walls action, this PPV kicked ass. This PPV will kick your mothers ass ( literally Joshua's mom shows up at one point) needless to say it was brutal.
Highlights:
Hardcore championship chaos.
Shadow vs Colonist (Grudge match)
Bane vs William Wallace ( Molecular Title)
Flash vs Green Latern (Loser goes to UCT) TLC match
Joker vs Freddy Kreuger (TAW Heavyweight Championship) Last Man Standing Match
Number 13: Singularity 2
The matches were epic
and also was the first time Someone really played a match as
a character. And how does Green Goblin keep winning?
Highlights:
Tag Team Tourney
Hardcore Title 6-way ladder match
InterGalactic Title Three way dance Buu v. Link v. Vegeta
TMN Green Title Captain America v. Ryu
Number 12: Solar Eclipse
The First Harlots Title Match And other amazing matches filled this card with an Exiting atmosphere. The annonce crew was Hilarious commenting these matches as well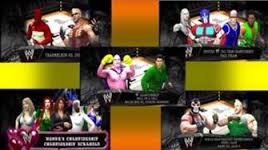 Highlights: Harlot Championship Scramble
Extra Solar Title: Bane vs Jack-6
Yusuke vs Buu InterUniversal Title
Every match had a great story built into it, but what made the show was the greatest match of all time contender Team Gokrew Vs The Supremacy for the Interuniversal title.
Highlights Atom-Weight Title - Ash Ketchum vs Tien Shinhan
Inter-Universal Title - Jack-6(c)/Bojack/Marcus Fenix vs Goku/Raphael/Master Chief
Number 10 TAW Turning Point
 Joshua(JoshAggedon) nailed it! It really showed that he cared about every match on the card. Tons of spots, good matches, made for an awesome time.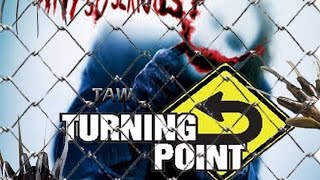 Highlights: Every match
Number 9: Northern Lights
The suspends is what sells these matches and these matches overflowed with exitement . In the peak of Jack-6's career he shined the most.
Ask Ketchum vs Tien Shinhan
Leonidas/Kratos vs Sub-Zero/Scorpion
Jack-6 (c) vs Goku
Number 8: M4gamania 3
By far a Huge improvement from the last M4gamania, filled with great matches and an appearance from PJR. With so much time it was more fun listening to the stories than watching the match, as in Trevor's sad BJ. Top that off with a 2 hour 7 on 7 elimination match and you got an afternoon waster.
Highlights:
AtomWeight Elimination Chamber Match
Hardcore Title Gauntlet (Especially Batman vs Hulk)
TMN Blue Championship Fatal Four Way: Bane vs Jack-6 vs Thor vs Kratos
TMN Green Title Match: Green Goblin vs Captain America
7 on 7 Elimination match: The Unwashed vs Team Blue
Number 7: Taw Riot Central
Joshua Campbell did an amazing job on this, doing promos to editing he
with that main event holy shit It was awesome.
Highlights:
Molecular Title Elimination Chamber match
Elmo vs Gohan Internet Title
Hardcore Title Madness
Mario vs Luigi Unsanctioned match
TAW Heavyweight Championship Fatal Four way Eliminator
Joker vs Jeff Hardy vs Freddy Krueger vs Anderson Silva
Number 6 Singularity
After the questionable win by bane over Jack-6. Jack-6 was out to get him in a brutal Hell in a cell match, It stole the show, but these other matches also kicked ass, like a double title match for both the Atomweight and hardcore Title, Exept for that DD tag team match it was a perfect show
Master Chief vs Captain Pollution
Bane vs Jack-6 [Hell in a Cell]
So many memorable moments in this PPV there's too many, But Zangief debuting helping Jack-6 win, but link returning from the dead to save Yusuke. And that Glitch in the Table Match where Skeeter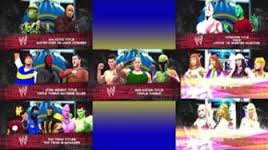 floated in mid-air.
Highlights: Atom-Weight Title:
Darth Maul vs Ash Ketchum vs Adolf Hitler - Triple Threat Match
Daphne/Hermoine Granger (c) vs Misty/Dawn - Tag Team Match
M4G-Nation Title:
Jack-6 vs Yusuke Urameshi vs Boba Fett - Triple Threat Match
After winning the royal rumble Packard was in the main event of Big Bang, The thing is though this match did not make the PPV. An AtomWeight title that ended with a rock bottom of a ladder through a table, A colossal Elimination Chamber, Every match was a classic. Every match was a Highlight
Leonidas/Kratos vs Darth Maul/Myotismon
Bulma vs Silk Spectre vs Cammy vs Daphne vs Kim Possible vs Taylor Swift
Ash (c) vs Trunks vs Skeeter
Jack-6 (c) vs Hulk vs Jason vs Master Chief vs Bojack vs Bane
Captain America vs Packard vs Darth Vader vs Yusuke vs Buu
Number 3 Galactic Throwdown 2
Do you think of the ring breaking when you read this? I know I do. One of the most memorable things ever to happen in the m4gnation. And also other 5-star matches and a tag team gauntlet, this PPV is the longest being over 3 and a have hours long!
Highlights: Tag Team Scramble:
Super Smash Bros vs 6 Other Teams
Master Chief vs The Hulk
King (c) vs Skeeter vs Batman vs Cookie Monster
Jack-6 (c) vs Bane
Number 2 Vernal Equinox Watch that Dale Earnhart Jr. Ladder match it's amazing with great spots. The Tag team Hell in A cell Match was Brutal.
Highlights: Atom Weight Title:
Ash Ketchum (c) vs Darth Maul [Extreme Rules Match]
Dale Ernhdt Jr (c) vs Ironman vs The Hulk vs Batman [TLC Match]
Sub-Zero/Scorpion (c) vs King/Wolverine [Hell in a Cell]
Jack-6 (c) vs Boba Fett
Yusuke Cashing in his Mitb on Jack-6 after competing earlier that night
.
.
.
.
.
.
.
.
.
.
.
.
AND NUMBER 1 Solar Eclipse
Not all the matches were The best, but the Voted Greatest match in M4g-nation History was on this Card With big steaks on the line. Also we had all the All the title matches as well. This PPV m4gnation got it all right.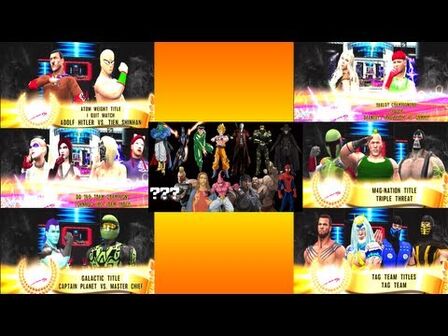 Tien vs Hitler
Master Chief vs Captain Pollution Galactic Title
Bane vs Jack-6 vs Boba Fett
7 on 7 Elimination match
I will update this After every PPV, DO NOT CHANGE ANYTHING, thank you to M4gnation, Taw and Ciw for making awesome content.
Ad blocker interference detected!
Wikia is a free-to-use site that makes money from advertising. We have a modified experience for viewers using ad blockers

Wikia is not accessible if you've made further modifications. Remove the custom ad blocker rule(s) and the page will load as expected.