Packard

Information

Origin
Real Life
Debut:
December 22nd 2012
Career:
Inactive
Finishing Move:
Packard Power Bomb (Low bow followed by a standing power bomb.)
Born Steven Packard on May 6th 1986, is a commentator for the M4G-Nation and is a former member of the roster.
Packard has only had two matches in his whole career but has been more sucessful than the other members of the crew having won a royal rumble, and then main evented a ppv. Packard is a fun loving guy and enjoys working for the M4G-nation.
M4G-nation History
Edit
Beginnings to Febuaruy 6th 2013
Edit
Packard would support the M4G-nation from the begining and can be heard early on in the start. Packard in his early days was much like his real life self and was a very fun loving casual guy. He would make points out that the others would then jump on for fun. packard has started many of the running jokes in the M4G-Nation such as calling Ash fuck face, Myotismon's name, as well as refering to the entire Harlot's Division.
In Ring Career
Edit
Packard would have the first of two matches in his career at the Royal Rumble of December 22nd. Packard would enter the ring that was full of fighters and would get beat around. After Ironman , Jesus , and Sepiroth Packard foucsed on trying to get rid of Skeletor and would be able to. Goku would knock out Kratos leaving Goku and Packard alone in the ring. However Pat James Regan/Black Wing would appear to make it a three way fight. Packard would throw Goku out of the ring. Packard would then battle Blackwing for a little bit until Packard would throw him out of the ring and win the royal rumble. The day before Big Bang Packard would cut a promo dissing the rest of the members of the main event. In the main event packard would fail to get any pins or submissions and would be pinned by Darth Vader giving him the win of the match. 
Febuaruy 6th and on
Edit
Ever since The Buu Supermacy announced its return Packard became the factions biggest fans. He would support the group and its actions towards the rest of the roster much like Jerry the King lawler would do for Vince Mcmahon and the entire corporation. As a result his viewpoints are fought with heavily by other members of the announcee table Tervor being the main foil. Tension between M4GNITUDE and Packard was also begining to evolve with M4GNITUDE breaking his neutraility and bad-mouthing the Buu Crew. This eventually led to M4GNITUDE being taken out (kayfabe) by Captain Pollution which Packard has shown little sympathy over. In fact, Packard declared himself the new CEO of the M4G-Nation and has begun introducing himself as "M4GNITUDE". Overall Packard has grown to either love wreslters or hate them with hot passion depending on status.
Wrestler hates and loves
Edit
Wrestlers that Pacakrd hates: Ash Ketchum, Darth Maul, Seriously Too Cool, Flash, and anyone who is a part of Team Goku
Wreslters that Packard loves: Anyone who is a member of the Buu Supermacy(Captain Pollution and Jack-6 being the top 2.) MegaMan, and Hitler.
Theme Song
Edit
Personal Life
Edit
Packard is a real life Packers fan. His caw was wearing a green and yellow uniform with the number 12 of Real Life packers Quarterback Aaron Rogers and a blue hat with a NY for the Yankees.  During early days of M4G-Nation Packard would speak like his real life self. He would always make fun of the others Tervor espcalliy. Pacakrd at the moment is the current ppv champion.
His Card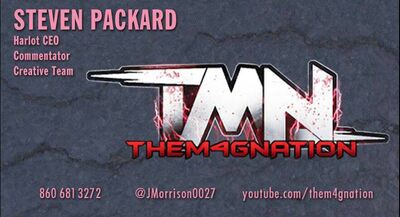 Ad blocker interference detected!
Wikia is a free-to-use site that makes money from advertising. We have a modified experience for viewers using ad blockers

Wikia is not accessible if you've made further modifications. Remove the custom ad blocker rule(s) and the page will load as expected.