Little Y2J" Chris Jericho

Information

Origin
Wrestling
Debut:
September 14th 2013
Career:
Active
Finishing Move:
The Smalls Of Jericho (The Walls Of Jericho)

Codebreaker
Mini Chris Jericho is a shrunk-down version of the actually professional wrestler Chris Jericho who appears in the D-League of the M4G-Nation.
Mini Chris Jericho first appeared in the M4G-Nation on September 14th 2013 as part of an Elimination Chamber with the winner going into the number one contender's match for the TMNXT Championship. He entered as the 1st entrant, but was the first man eliminated by Nappa. In fact, by lasting just 2 minutes 30 seconds long, Mini Chris Jericho broke the record for the shortest amount of time spent in an Elimination Chamber. Due to finishing last, he was forced to appear in a last-place Elimination Chamber with the other wrestlers that came last in Elimination Chamber matches. However, he was able to pick up the victory giving him momentum into the TMNXT Tournament. Mini Jericho then appeared in the TMNXT Tournament for a shot at the TMNXT Championship. However, he was eliminated in the first round by Kick-Ass. He was later dropped from Packard's team following a redraft.
Theme Song
Edit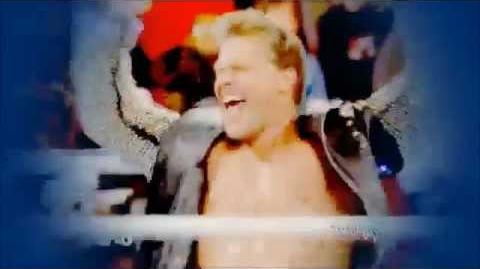 Mini Chris Jericho ironically holds the record for the shortest amount of time spent in a single Elimination Chamber.
Mini Chris Jericho was the first midget real-life professional wrestler to appear in the M4G-Nation. Mini Triple H would end up appearing on the show for Packard's team.
Ad blocker interference detected!
Wikia is a free-to-use site that makes money from advertising. We have a modified experience for viewers using ad blockers

Wikia is not accessible if you've made further modifications. Remove the custom ad blocker rule(s) and the page will load as expected.