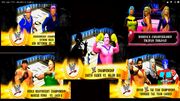 M4GaMania was a PPV held by the M4G-Nation on the 28th of October 2012. This was the last M4G-Nation PPV held on WWE 12.
The main event bout was a Inter-Universal Championship match between the champion Buu and the Royal Rumble winner Darth Vader, who was receiving the Inter-Universal Championship match he earned by winning the 2nd Royal Rumble on September 2nd.
Background
Edit
At Solar Eclipse, Buu defeated Yusuke Urameshi in a Hell In A Cell match to win the Inter-Universal Championship. This would bring in an immense amount of power for the Buu Supremacy who had caused havoc all over the M4G-Nation. However, the M4G-Nation announced a Royal Rumble to take place on September 2nd 2012 with the winner facing Buu for the title at the M4G-Nation's biggest Pay-Per-View M4GaMania. The match was won by Darth Vader who was then challenged for his spot against Buu by the former champion Yusuke on the 28th. Vader defeated Yusuke to retain his match against Buu for the Inter-Universal Championship.
Jack-6 had been a dominant Galactic Championship (then named the ExtraSolar Championship). He event defeated The Hulk and Bojack at Solar Eclipse in a triple threat match. However a new challenger would emerge as an Elimination Chamber match was made for October 21st with the winner facing Jack-6 at M4GaMania for the title. Marcus Fenix would emerge as the winner of the match, and earned his chance at Jack-6 at M4GaMania
At Solar Eclipse, Sephiroth and Optimus Prime defeated Team Old School to win the Tag Team Championship and end their 138 day title reign as champions. A Tag Team Tournament was created to help find number one contenders for the titles. Many teams had tried to win but in the end it was Spartan Fury who defeated Sonic and Blue Ranger to become the number one contenders.
After losing the tag team titles at Solar Eclipse, Ash Ketchum blamed his partner Brock for the loss of the titles and turned on him. Right after turning on Brock, he immediately declared his interest at Trunks's Atom-Weight Championship. The two would go on to brawl backstage and were were seperated by Jesus and Raphael. Trunks' issues with the Supremacy (which Ash was a part of) continued when he and Raphael battled the Buu Supremacy's Bojack and Marcus Fenix in the 2nd Round Of The Tag Team Tournament. In a hard-fought elimination tables match, Trunks and Raphael were beaten and Trunks focused on his Atom-Weight Championship and Ash. On October 22nd, Trunks was jumped backstage by Ash after talking to Ash's former partner Brock. This happened just before he was scheduled to fight Dante. The match ended in a no contest after Bojack, Ash and Marcus all attacked Trunks alongside Dante. Ash eventually earned his title shot after defeating Trunks in a non-title match two days prior to the PPV.
On October 10th, Harlot Division Championship Taylor Swift stated that she would lead the Harlot's Division as champion but Juliet Starling came out to question her legitimacy as champion. The two would have a non-title match which would led to Taylor beating down Juliet with a pipe, with Bulma making the save. This would led to a tag team match between Taylor and friend Megan Fox facing the team of Bulma and Juliet Starling. Despite not winning, Bulma and Juliet were given shots at the champion in a triple threat at M4GaMania.
| # | Match | Stipulation | Time |
| --- | --- | --- | --- |
| 1 | Ash Ketchum def. Trunks (c) | Extreme Rules Match For The Atom-Weight Championship | |
| 2 | Leonidas and Kratos def. Sephiroth (c) and Optimus Prime (c) | Tag Team Ladder Match For The Tag Team Championship | |
| 3 | Jack-6 (c) def. Marcus Fenix | Singles Match For The ExtraSolar Championship | |
| 4 | Bulma def. Taylor Swift (c) and Juliet Starling | Triple Threat Match For The Harlots Championship | |
| 5 | Darth Vader defeated Buu (c) | Singles Match For The Inter-Universal Championship | |
| 6 | Captain America defeated Darth Vader (c) | Singles Match For The Inter-Universal Championship | |
Ad blocker interference detected!
Wikia is a free-to-use site that makes money from advertising. We have a modified experience for viewers using ad blockers

Wikia is not accessible if you've made further modifications. Remove the custom ad blocker rule(s) and the page will load as expected.