Kick-Ass

Information

Origin
Marvel Comics
Debut:
July 26, 2013
Career:
Active
Finishing Move:
Unknown
Kick-Ass is a superhero in the Marvel universe. He is a member of Trevolution and is an active member of the D-League. He is formely one half of the TMNXT Tag Team Champions alongside Ronald McDonald.
He relies on weapons and his ability of being almost immune to pain.
Dave Livewski was an ordinary kid with a love of comic books who one day asked himself of the question of "How come no-one has ever tried to be a super hero?" Believing that he could himself be a superhero, Dave bought himself a costume and mask and began his quest to fight crime and fight the good fight. However, in his first outing, Dave was brutally attacked and stabbed by thugs. After surviving the attack, Dave refused to give up on his dream and after months of working out and physical rehabillitation, restablished his crime-fighting career. After successfully saving someone from a beatdown from some thugs, Dave was approached by an on-looker who recorded the rescue who asked "Who are you?". Dave simply replied... "I'm Kick-Ass" 
Kick-Ass was Trevor's sixth pick for Trevolution in the D-League. He debuted by losing a 6-man battle royal against Woody, Nightcrawler, Green Goblin, The Riddler, and Dexter. He was the first man eliminated when Green Goblin pinned him.
He was the 23rd entrant in the D-League Royal Rumble and was eliminated by Sonic The Hedgehog.
On Episode 5, he teamed with Ronald McDonald to take part in a tag team gauntlett to determine the first ever tag team champions. Having come out last, they defeated Curious George and The Man in the Yellow Hat in the last match to become the first ever tag team champions of the D-League.
Theme Song
Edit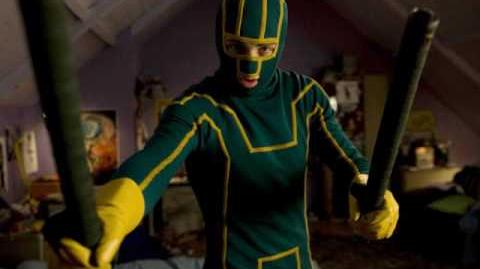 Accomplishments
Edit
Ad blocker interference detected!
Wikia is a free-to-use site that makes money from advertising. We have a modified experience for viewers using ad blockers

Wikia is not accessible if you've made further modifications. Remove the custom ad blocker rule(s) and the page will load as expected.