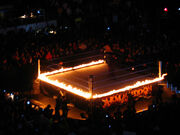 The Inferno Match is a type of match that is extremely rare in professional wrestling and is a match rarely used by the M4G-Nation. The objective of the match is literally to set your opponent on fire.
The match has really been used in the M4G-Nation and only the most dangerous of competitors have actually been in the match. The first match took place on July 28th with Bane taking on Solid Snake with Bane being the victor and setting Snake on fire. 
The match was also used in the short-lived Saturday Night Ghost series, with Space Ghost taking on Batman on October 6th. The third ever match took place at the Absolute Zero PPV, with Jason Voorhees defeating Cookie Monster to retain the Galactic Championship. This was the only time a championship has been defended in an inferno match. However, another championship is set to be defended in the inferno match as Daenerys Targaryen is set to take on Taylor Swift in the match for the Harlot Division Championship at Singularity. This will mark the first time that woman have competed in the inferno match.
List Of Inferno Matches
Edit
Ad blocker interference detected!
Wikia is a free-to-use site that makes money from advertising. We have a modified experience for viewers using ad blockers

Wikia is not accessible if you've made further modifications. Remove the custom ad blocker rule(s) and the page will load as expected.