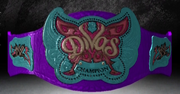 The Harlot's Division is a wrestling format used for female competitors, and often features matches between two or more female wrestlers. Wrestling rules and regulations used in male wrestling are often applied in the Harlot's Divison as well. This is the M4G-Nation's rendition of the various promotional titles for female talent found in the wrestling industry, such as the WWE Divas, TNA Knockouts, etc. Color commentator Packard is the appointed CEO of the female-oriented business.
The championship contested for by members of the Harlot's Division is the namesake Harlot Division Championship.
The division's debut arrived on July 23, 2012, where real-life singer/songwriter Taylor Swift was pitted against Catwoman under extreme rules. Several matches later, the female wrestlers were left without a title to fight for until Solar Eclipse, as prior to the PPV, it was explained that the winners of the other singles matches held beforehand were to appear in a championship scramble match for the title. This pay-per-view match saw the inaugural Harlot Division Champion Taylor Swift as its new holder.
Numerous months and title changes later, the death of Harlot Division Champion Bulma prompted a vacant female title to be contested for in a single-elimination, 16 member tournament called the Ice Cream Social. The grand finals of the tournament were held at Absolute Zero, where inaugural champion Taylor Swift - who served as a surrogate tournament seed for Daphne Blake, defeated former champion Silk Spectre for her second title reign.
Meanwhile, the DD Championship was introduced for members of the Harlot Tag Team Division. While tag team matches among females did take place over the course of the M4G-Nation's history, female tag teams were never officially recognized as a division until then.
Current Members
Edit