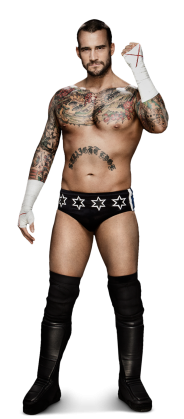 CM Punk (real name Phillip Brooks) is a professional wrestler, formerly working in WWE under the ring name "CM Punk," who is set to debut on the TMNXT... unfortunately. 
Phillip Brooks was born in Chicago, Illonois. Not wanting to emulate the lifestyle of his father, Brooks adapted a straight-edge lifestyle and soon decided to train as a wrestler. After spending a while in the Indies, he would join the WWE in 2005. Wrestling as Punk, he debuted on WWE Television in 2006 for the ECW brand. CM Punk became very sucessful within the next few years. He held the ECW, Intercontinental and Tag Team titles, as well capturing the World Title 3 times. The night he made the most noise though was June 27th 2011, when he cut a worked shoot promo targetting the McMahon Family and WWE Management. This night saw Punk elevated to superstar status as he captured the WWE Championship at Money In The Bank 2011. Punk's success saw him hold the WWE Championship for 434 days - the sixth longest WWE title reign in history. But despite this success he still wanted just a little bit extra and when he didn't get it, he quit the WWE. 
CM Punk's depature from WWE was reported the night after Royal Rumble 2014. However, the M4G-Nation refused to declare him a free agent for the D-League until the WWE release something official about him. When CM Punk was put on the WWE Alumni and Punk tweeted his goodbyes, Punk became a free agent. Trevor already confirmed on Facebook that Punk would be involved in the D-League for an unnamed team. That team later turned out to be Pat James Reagan, who earned the right to have him in his team. However, Trevor and M4Gnitude hinted that Pat may not want him on his team.
Ad blocker interference detected!
Wikia is a free-to-use site that makes money from advertising. We have a modified experience for viewers using ad blockers

Wikia is not accessible if you've made further modifications. Remove the custom ad blocker rule(s) and the page will load as expected.