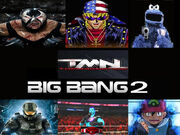 Big Bang 2
was a M4G-Nation
Pay-Per-View
that took place on September 29, 2013. This was the second
Big Bang
Pay-Per-View event.
The main event of the Pay-Per-View was a triple threat match to crown the next M4G-Nation Champion between Bane, Bandit Keith, and Cookie Monster.
Background
Edit
Big Bang 2 featured simulated professional wrestling matches that involve fictional wrestlers from pre-existing feuds, plots, and storylines that play out on the M4G-Nation's daily episodes. Wrestlers will portray villains or heroes as they follow a series of events that build tension and culminate in a wrestling match or series of matches
M4G-Nation Champion Jack-6 was exiled along with his group the Buu Supremacy from the M4G-Nation until 2014 after his team lost the "Losing Team Leaves Until 2014" elimination match at Solar Eclipse 2. His exile meant that his M4G-Nation Championship had to be vacated, and a new champion was needing to be crowned. Therefore, it was decided that a triple threat match at the Big Bang 2 would take place to crown a new M4G-Nation Champion. Therefore, qualifiers have been put in place to see who will compete for the title. Bane qualified on September 12th 2013 after defeating Goku and Vegeta in a triple threat match. The returning Bandit Keith qualified on Septmeber 19th 2013, defeating Bojack and Ezio in a triple threat match. Cookie Monster won the last triple threat on the 20th of September by beating Link and Dante.
On September 9, Harlot Division Championship holder Daenerys Targaryen announced that there would be five Battle Royales throughout the month and all six would fight against her to have the chance to be the next Champion. The 5 Harlots that won the 5 battle royals are , former Harlot Champion Bulma, Samus, Rei Ayanami, Alice, and Juliet Starling have qualified for the match.
At Singularity, then-Buu Supremacy member Captain Pollution captured the Galactic Championship after defeating Master Chief. He would defeat Master Chief again at Solar Eclipse 2 when Chief activated his rematch clause. However at the end of the show, Pollution unveiled his alliance with Zangief and Jesus Christ after they abandoned the Supremacy. This was revealed to be part of a master plan by Pollution to get to the top. He allowed himself to get kicked out of the Supremacy by Buu just before Solar Eclipse 2 to avoid the possibility of being fired when the Supremacy lost. Zangief and Jesus were also immune to the stipulation of the "Losers Leave Until 2014" match because it was revealed they were never actually part of the Supremacy and were aligned with Pollution long before Solar Eclipse 2, not the Buu Crew. Pollution stated that he planned to win the vacant M4G-Nation Championship. However, he learned that he would be defending his Galactic title one last time against Master Chief at Big Bang 2, who had just won the Money in the Bank contract as well. However, in the middle of a promo cut by Pollution on September 16th, Ash Ketchum had returned after a 3 month hiatus. Pollution was responsible for Ash being kicked out of the Buu Supremacy back in June, and Ash had not been seen since. Ash announced that he would also be in the Galactic Title match and swore revenge on Pollution.
| # | Match | Stipulation |
| --- | --- | --- |
| 1 | The Westeros (Poseidon & Khal Drago) (c) def. Spartan Fury (Kratos & King Leonidas) to retain the Tag Team Championship | |
| 2 | Tien Shinhan (c) def. Deadpool, Earthworm Jim, Link, Raphael, & Trunks to retain the Atom-Weight Championship | This was an Armageddon Hell in a Cell match |
| 3 | Menage a Trois (c) def. Frost Nips (Emma Frost & Catwoman) to retain the DD Championship | |
| 4.1 | Bulma def. Alice, Samus Aran, Daenerys Targaryen (c), Rei Ayanami, & Juliet Starling to win the Harlot Division Championship | Battle Royale for Harlot's Title |
| 4.2 | Daphne Blake def. Bulma (c) to win the Harlot Division Championship | Daphne Blake cashed in her money in the bank |
| 5 | Master Chief def. Ash Ketchum & Captain Pollution (c) to win the Galactic Championship | |
| 6 | Bandit Keith def. Cookie Monster & Bane to win the M4G-Nation Championship | Triple Threat match for vacant M4gnation title |
Ad blocker interference detected!
Wikia is a free-to-use site that makes money from advertising. We have a modified experience for viewers using ad blockers

Wikia is not accessible if you've made further modifications. Remove the custom ad blocker rule(s) and the page will load as expected.