Android 17

Information

Origin
Dragon Ball
Debut:
February 28, 2012
Career:
Active
Finishing Move:
17 Stunner (Osaka Stunner)
Android 17 is an antagonist in Dragon Ball Z. He was killed after he was absorbed by Cell. He is also a member of the Hall of Fame.
Android 17 (人造人間17号, Jinzōningen Jū Nana-Gō) is a character in the Dragon Ball manga, and the anime series Dragon Ball Z and Dragon Ball GT. He is Dr. Gero's seventeenth android creation, designed to serve Gero's vendetta against Goku who overthrew the Red Ribbon Army as a child. Despite his interests not initially deviating from this expectation, Android 17 takes it upon himself to kill Dr. Gero, who is uncooperative with Android 18's curiosity in activating Android 16.
Android 17 made his debut by beating Mace Windu in a match. After a match between Bojack and Tim Tebow, 17 brutally assaulted Tony Hawk while in a fit of rage due to Android 18 being fired. The assault would continue until Piccolo made his way to the ring and saved Hawk. One week later, he lost a handicap match against Piccolo and Tony Hawk. 17 wasn't seen for over a month after his loss.
He made his return by winning a match on July 12, 2012, against Ezio in the first round of the Atom Weight Tournament. In the second round, he would lose to Pat James Regan/Black Wing.
He would then lose a handicap match to Space Ghost and Bane on August 31, 2012. This was his last match in the M4g-Nation.
On October 27, 2012, he begin the 3rd man to be inducted in to the Hall of Fame when M4Gnitude chose him as an inductee.
Return
He makes his return on December 20th Vs Earthworm Jim and Darth Maul winning the match. Android #17 would face-off against Tien and Green Ranger at Space Jam but would end up being pinned by Tien. Android #17 would then face Link in a #1 contenders match for the Atom-Weight Championship and would pin Link after a stunner, earning him the right to face Tien at Supernova 2. Android #17 would pin Tien after delivering a low blow thus winning the match. A day later, Android #17 would then issue an open challege to anyone in the locker room, so that he could prove the skeptics wrong, to a title match. Frieza would answer the challege and would pin the Hall of Famer after a Death Ball that left Android #17 beaten and bloodied.
Theme Song
Edit
Old Theme Song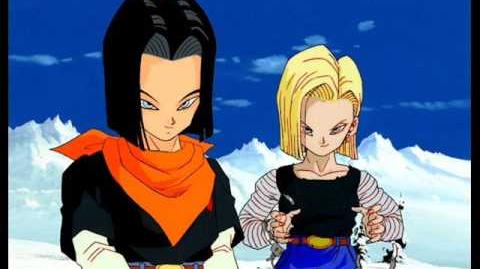 New Theme Song
Android 17 fought against Mace Windu in the first match that the M4g-Nation ever posted.
Android 17 has the shortest Atom-Weight title reign, lasting less than a day.
Ad blocker interference detected!
Wikia is a free-to-use site that makes money from advertising. We have a modified experience for viewers using ad blockers

Wikia is not accessible if you've made further modifications. Remove the custom ad blocker rule(s) and the page will load as expected.